Blog Médiane Système
Bienvenue dans le blog de Médiane Système
1 minute reading time
(285 words)
On-board train equipment monitoring system
ALSTOM's objective is to provide its customers with the most secure electronic solutions to ensure both the safety of passengers and the equipment that transports them, and the operational safety of the latter. ALSTOM has therefore entrusted MEDIANE SYSTEME with the development of a device enabling it to continuously assess, in real time, the rate of compromise of its on-board communication infrastructure.
The aim of this innovative system is to be deployed on all rolling stock offered by ALSTOM. It simplifies the physical protection systems required to achieve the above-mentioned safety objectives.
The device consists of a specific piece of equipment (the "Netbox") which houses embedded software that performs the following 2 main functions:
Automatic exploration of the topology of the network to which it is connected and creation of a repository of equipment to be monitored,
Continuous monitoring of the network infrastructure and detection of any states of compromise in relation to the repository.
This system is autonomous and does not participate in the train's operational functions, either for maintenance or even for the commercial mission. Its only contribution is to report deviations from the reference to the main mission computer in real time. It does not protect the infrastructure as such, as an IPS device might do, but it transmits the information needed to take the appropriate decisions if the infrastructure is compromised.
System overview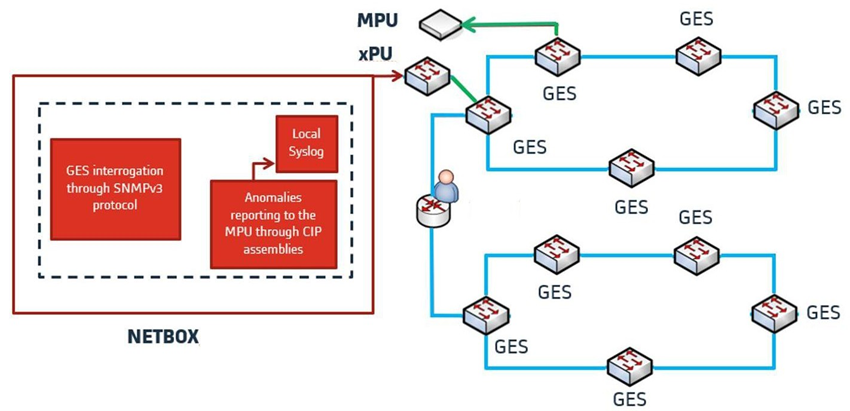 This study was initially carried out in the form of a POC (proof of concept). At the end of this phase, a marketable version was produced with functions extended to more complex embedded network architectures.
Technical key words: C++, HTML, Javascript, Python, Qt 5.15, SNMP v3, CIP, TRDP, Horse Shoe, Daisy Chain, Dual homing
For more information: contact@medianesysteme.com